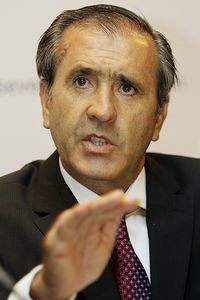 Golf legend Seve Ballesteros is still fighting strong and showing signs of continued improvement after being diagnosed with a life-threatening brain tumor in 2008.
At a recent event for brain cancer awareness held by his own organization, Ballesteros seemed to be in good spirits and in an improved condition during a rare public appearance.  As an article by Reuters states, Ballesteros' condition has gradually improved via the use of what is considered to be the best medicine: laughter.
"I'm very well. Little by little and week by week I notice small improvements. I'm on the road towards normality," Ballesteros told reporters.

Walking unaided and speaking with much greater clarity than on previous occasions, Ballesteros joined in the question and answer session and quizzed his own doctor with a big grin.

The 53-year-old Spaniard told the gathering a joke and went on to speak about his recovery programme.

"The key is to have a strong mind, to accept the situation and to beat it," he said.

"I have been on a very strict diet and have done a lot of exercise. Gym work on Monday, Wednesday and Friday doing weights and stretching.

"I walk two hours a day, I sleep well, rest a lot...and I laugh. It's important to laugh a lot. Even though we are out of work and suffering with the crisis, laughing doesn't cost anything."
In 2008 Ballesteros was diagnosed with a brain tumor the size of two golf balls by his doctor, Cristobal Belda.  Since that time the golfing legend has underwent four brain surgeries and a guantlet of chemotherapy on his way to recovery.