New Clubs: MacGregor MT Forged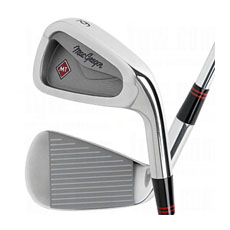 As a purchase I had absolutely no intention of making prior to the 2011 golf season (especially since it is a good two month away before weather in Chicago is consistently mild), a new set of golf clubs has made its way into my bag: the MacGregor MT Forged iron set.
Prior to this set I was playing the TaylorMade RAC OS line, which were entirely meant to help me get my game back on track having not played very often over the past few years.  After two years with those clubs, and a gradual lowering of my handicap, I quickly discovered that my distance control was completely unpredictable.  For example, my 8-iron distance is 150 yards normally; however, I noticed some shots flying 160 yards at times without any difference in feel with the RAC OS irons.  Furthermore, due to the perimeter weighting in the clubheads, it was very difficult for me to hit a draw or fade when I needed to.
Needless to say, I needed a little more workability and predictability with whichever iron I had in my hands.  After a few trial sessions with a variety of different blade styles (including used sets like Mizuno's MP 33 irons), I eventually had the chance to try the MT's.
According to the iron review on ForgedGolfIrons.com, the MT's had everything I was looking for in a golf iron at this point in my game:
The MacGregor MT Forged Irons are designed for the mid-handicap players who would like a more traditional looking club that's still tailored to their skill level. The forged face of the club is welded to a stainless steel body, which uses Cup Face 360° Technology in order to allow the clubs to get more distance and be more accurate. This use of the Cup Face 360 Technology basically makes the entire club face very large sweet spot, or in other words, even if the ball is hit off-center, it still flies straight and true.