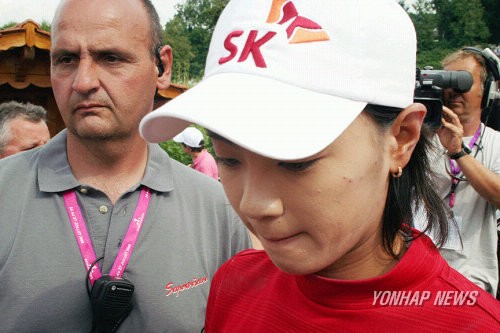 For what seems to be the better part of a decade the LPGA has been a haven for international women golfers to showcase their talents every week.  In the process, however, many international players have been unable to communicate with their fellow competitors due to language barriers.  There may be light at the end of the tunnel, according to a recent article in the New York Times.
Even before the installment of new LPGA Commissioner Mike Whan, criticism has surrounded the LPGA regarding the influx of golf talent from countries like South Korea and players' inability to speak the English language.  This past January, however, Whan decided to address this language barrier by teaming with Martin George and Erica Tomasik (who were already working with LPGA golfer Na Yeo Choi - currently ranked 6th in the world) to offer a language assistance program to the Tour.
"This may feel like an L.P.G.A. thing, but it's really a business thing," Whan said, adding: "I don't really consider it a language program. I consider it a cross-cultural program."

He said players learn that signing autographs is not the same everywhere. Chitchat matters more to fans in Toledo; they want only the signature in Thailand, Whan said, adding, "It's good for business for the players to recognize things like that."
This is certainly a giant leap forward for the LPGA in addressing an often-overlooked issue for the Tour: if the LPGA is going to allow international players to compete, should these players be required to learn English?  This same question was originally addressed by previous LPGA Commissioner Carolyn Bivens in 2008, when Bivens imposed a requirement for LPGA players to pass a written English test.  Needless to say this new eligibility requirement was met with more opposition than acceptance, even to the point of filed lawsuits and other legal action.
Civil right arguments aside, the fact that some of the LPGA's best players are unable to communicate with the Tour's home country is disturbing and inconvenient for everyone involved.  Players cannot communicate with each other, fans can't communicate with players... you get the point.  In a time when the LPGA is fighting a tough economy, loss of sponsorships, and a lacking fanbase, finding a way to better market its best talent to the masses in simply smart for business.  And, until a major European competitor to the LPGA is formed, international golfers will continue to play in American tournaments with the hopes of capturing larger purses (pun intended).
Whan's program works both ways, as well.  American golfers Paula Creamer and Morgan Pressel have indictated they would like to hone their Spanish skills.  Beatriz Recari, a rookie from Spain, is interested in Mandarin but is immersed in Japanese.  In time, the language of golf may be conveyed more clearly across the LPGA regardless of native country or tongue.