Americans Up 2 on Day 2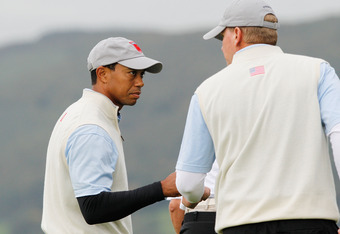 Or is it really just Day 1 and a half?
As the Fourball match of Tiger Woods & Steve Stricker vs. Lee Westwood & Luke Donald hit their tee shots this Saturday afternoon, the United States hold a 2-point lead over the Europeans in the 2010 Ryder Cup.  This year's event has already had its fair share of excitement, as well.
Some general thoughts on the play to this point:
After making a huge bridie putt on their 17th hole, Stewart Cink and Matt Kuchar had one of the most awkward high-five attempts since Paul Azinger's effort many years ago.  Fortunate for the Americans, match points are not awarded for coolness.
Another area in which the Americans are leading is the wardrobe department.  While the colors are more lavender and black as opposed to red, white, or blue, these players are looking sharp.  For the Europeans, however, it should be a requirement for those guys to wear hats.  It would be doing them a favor.
Rickie Fowler finally went through his awkward rookie mistake for the week by taking an incorrect drop on the fourth hole of his match this morning.  This seems to be par for the course (how punny) this season on the PGA Tour, considering the number of rule infractions in the news.  Perhaps a refresher course in the Rules of Golf would be beneficial?  In this age of social media, perhaps a series of tweets would be welcomed.
The next time I hear another comment about rain suits, I'm jumping out my window.
Rory McIlroy is struggling.  After missing a relatively easy putt on the 17th hole of his morning Fourball match to tie Cink & Kuchar, he then blasted a wedge into a greenside bunker of the par-5 18th, ultimately losing the match for the Euros.